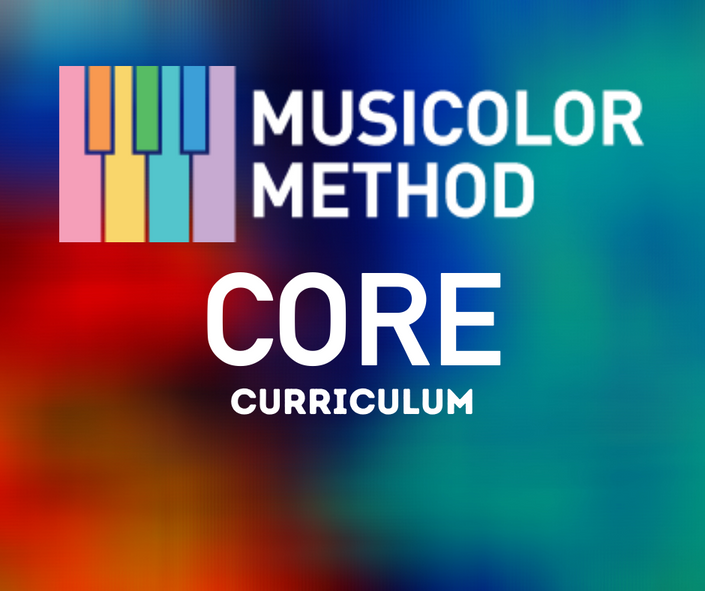 MUSICOLOR METHOD CORE CURRICULUM
Teach this revolutionary adaptive curriculum that makes music easy for all
Enroll Now
If you've ever wanted to turn your knowledge and passion for music into income and impact, then a curriculum that reaches all beginners is the answer.
This program takes the guesswork out of the process - and gives you a blueprint that can quickly put you on the path to success and a full roster of happy, engaged students.
Hi, my name is Andrew Ingkavet.
Over the years, I've become the go-to-person for music teachers wanting to reach young beginner's. I've taught teachers from all over the world, from complete novices to 40 year veteran teachers with advanced degrees from the finest conservatories and educational institutions around the globe. I've taught parents to teach their children and others to come back out of retirement to start teaching again.
My secret to success is a step-by-step formula for reaching preschoolers, special needs students and all beginners including adults and seniors. It's called the Musicolor Method.
And this is what I'm going to share with you in this comprehensive online training.
We are decidedly different, dramatically effective and perhaps not for everyone...
To be honest, we are not for everyone...
If you are comfortable enough using centuries-old methods, you will probably not commit the extra effort to change your ways...

And, if you are not open-minded with a growth mindset willing to borrow ideas from other fields as diverse as graphic design, user experience, storytelling and early childhood education, this is probably not for you...

If you are a victim, don't take ownership for your success and prefer wallowing in the mediocrity of the majority, then we're not for you...
Are you right for this program?
Teaching music has the greatest potential to teach life skills to our population and to do it with fun, ease and a funky good beat!
Sure, a knack for explaining doesn't hurt, but more than that, you need:
A love of music

Commitment to help all students regardless of age or background with patience, integrity and kindness

A growth mindset and a love of personal development

The right approach
And the right approach will empower you to work easily with all students, regardless of ability or age or background, helping them to unlock the door to the joys of music and the life skills inherent in learning to make music. We strongly believe that the right approach is the Musicolor Method.
Without these four things, your teaching is not optimal...
What can you expect?
This program, Musicolor Method Core Curriculum*, is responsible for increasing student enrollment rates by 20, 30, or even 50% and transforming a struggling solo teacher into a thriving studio owner.
And following our program, you can expect to experience growth and dramatic increases in your income within 60 to 90 days ( and that is just the start).
It will give you a turnkey solution for enrolling, teaching and cultivating long-term students with predictable cash flow and profits. Our Musicolor Method curriculum will provide you the easiest on-ramp for all beginner students, usually the largest and most important segment of any thriving school/studio.
And, it will provide you with a platform to create the biggest impact in your community.
*Note: we cannot guarantee results as your efforts, mindset, integrity and location can greatly affect your outcome.
If you are one of the great ones...

You, like our best teachers, can expect rapid improvement over 6 weeks - in all areas of teaching and your business, simultaneously.
We specialize in giving you a massive advantage over your competitors with step-by-step training, support and accountability using a proven model of success.
Summary of results



Students playing a song on piano with all ten fingers from the very first lesson

Students being excited to practice on their own without help from parents

Having a predictable path to explain progress to parents

Easy to follow lesson plans to last 2 to 3 years of your beginning student's lessons

Learning to read music on the staff in a way that is fun and easy
AN IMPORTANT NOTE
We believe in teaching piano to all students before other instruments.
This not only helps students understand music theory visually, logically and without overwhelm, it enables you to thoroughly teach students the basics of music before moving to other instruments or higher levels on piano. Plus, it gives you an opportunity as a teacher to enroll a student years before you previously could leading to more time to develop rapport and also generate more income for you and your studio.
Includes Physical Teaching Supplies
After joining, you will receive a package in the mail - please be sure to include your current mailing address when enrolling
(North America only for now)
Music Alphabet Cards

Rhythm Fruits Cards

Solfege Cards

Dot Stickers

Musicolor Method Sticker
Includes one year of support, special live trainings and updates.
Renew at $200/year or $20/month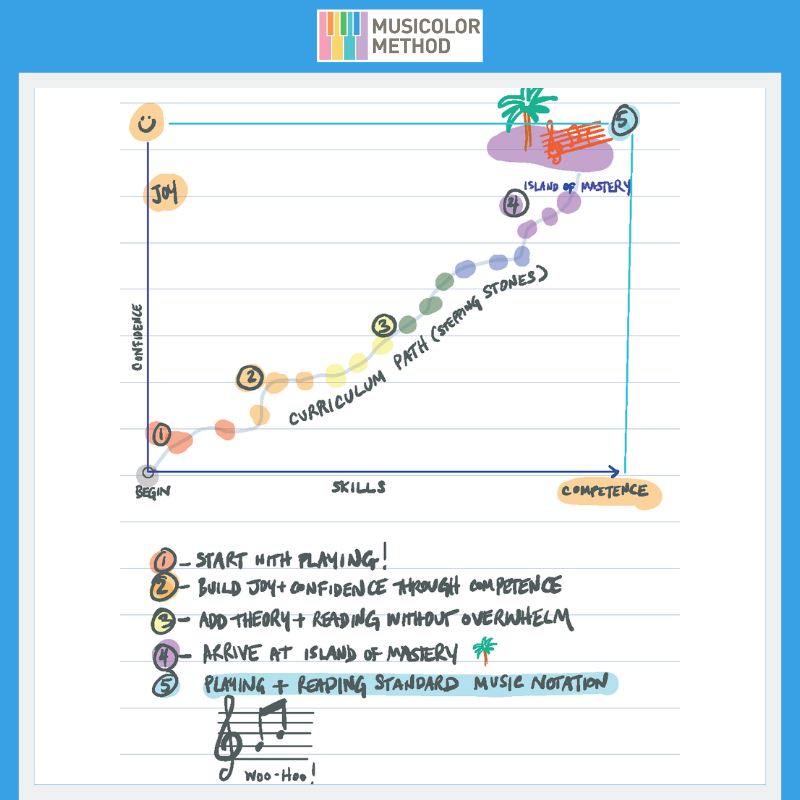 "Wanted to reiterate how helpful the videos are and how totally comprehensive
your overall approach is. The colors themselves, although great, are like icing -
but your use of solfége to add context, pacing of lessons, and overall thoroughness
for each song is really amazing. The activities are so essential to get these young
kids EXCITED about what they're doing. It's taught me to slow down a lot and really
dig deep into each and every song, visually, rhythmically, kinesthetically, etc. It's
really quite comprehensive."
- A Musicolor Teacher, New York
"I taught my first lesson using the Musicolor Method to a new student on Wednesday
and it was the best experience I've had teaching up to now. He left actually playing a
song and was SUPER thrilled with himself."
- Marcie, Musicolor Teacher, Virgina, USA

"In my nearly 40 years of teaching music, I can confidently say, the Musicolor Method® is the best program on the market today."
- Trish, professional piano and harp teacher, Chicago, USA"
Your Instructor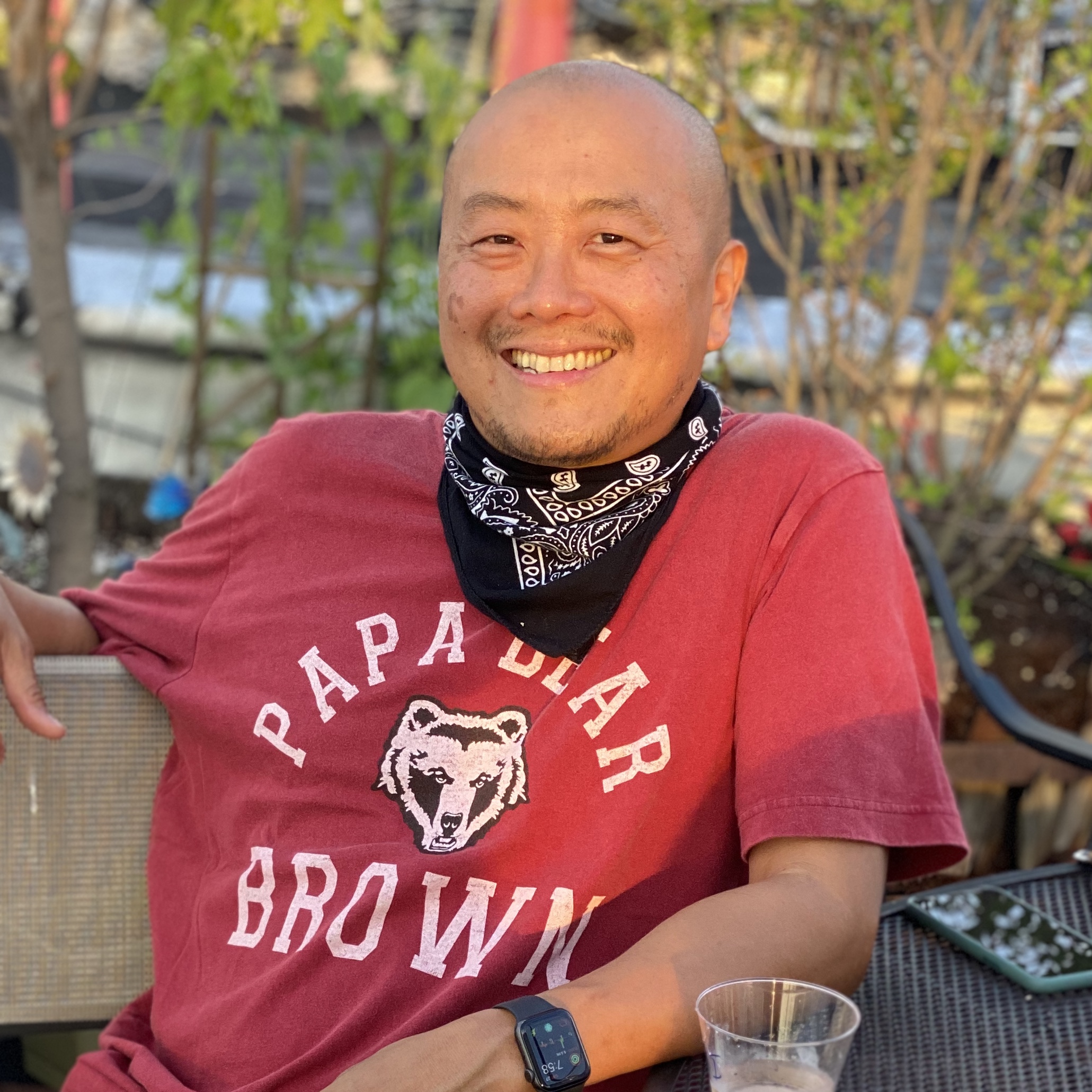 Hi, my name is Andrew Ingkavet.
I am a former MTV VJ back when they still played music and I've been part of the marketing team behind artists such as Guns N' Roses, Ozzy Osbourne, Tracy Chapman, and others.
My books and music curriculum have been featured in the Telegraph UK, Tim Topham, and Thrive Global. And that's why other teachers and studio owners come to me when they need help to fill their schools with engaged students.